Australia concerned over China's 'aggressive tactics' in South China Sea
https://www.theguardian.com/world/2018/oct/03/australia-concerned-over-chinas-aggressive-tactics-in-south-china-sea
Defence minister says any intimidation in region is 'potentially dangerous' after 'unsafe' encounter with US destroyer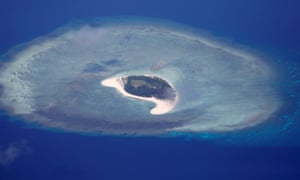 Beijing claims the entire Spratly island chain in the South China Sea. On Sunday a Chinese warship sailed within yards of an American destroyer, according to a US official. Photograph: Erik de Castro/Reuters
Australia has expressed concerns about China's "aggressive tactics" in the 
South China Sea
 after a Chinese navy destroyer sailed within yards of an American warship on the weekend.
Christopher Pyne
, Australia's defence minister, said the Morrison government would view any use of intimidation in the region as "destabilising and potentially dangerous".
According to a US official, 
the USS Decatur guided-missile destroyer was conducting a "freedom of navigation operation" in the South China Sea on Sunday
, when it passed within 12 nautical miles of Gaven and Johnson reefs in the contested Spratly Islands.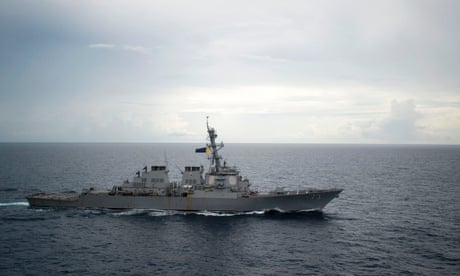 Chinese warship sails within yards of US destroyer in 'unsafe' encounter
Read more
Beijing claims the entire Spratly island chain as part of its sweeping claims across much of the South 
China
 Sea, but the archipelago is contested.
China repeatedly asserts its right
 to build "defence" facilities in the region, which it views as key to pushing its defences beyond China's coast and securing oil supply routes, but it has been accused of building "
island fortresses
" on the islands.
Brunei, China, Malaysia, the Philippines, Taiwan and Vietnam have overlapping claims in the region.A US official has claimed the USS Decatur was conducting a freedom of navigation operation in the region on Sunday when a Chinese Luyang destroyer approached in "an unsafe and unprofessional manoeuvre in the vicinity of Gaven Reef in the South China Sea."
The Chinese destroyer reportedly conducted a series of "increasingly aggressive" manoeuvres, warning the Decatur to depart the area.
It then approached "within 45 yards of Decatur's bow", forcing the Decatur to manoeuvre to prevent a collision, Cdr Nate Christensen, US Pacific Fleet spokesman, said on Monday.
Pyne said the Morrison government would view such tactics as "potentially dangerous", and called the reports "concerning".
"We would view any use of intimidation or aggressive tactics as destabilising and potentially dangerous," he told Guardian Australia on Wednesday.
"Australia has consistently expressed concern over ongoing militarisation of the South China Sea and we continue to urge all claimants to refrain from unilateral actions that would increase tension in the region," he said. His comments were first reported by 
the Australian
.
China's defence ministry said on Tuesday that a Chinese naval ship had been sent to warn the US vessel to leave, saying it was resolutely opposed to an operation that it called a threat to its sovereignty.
The foreign ministry in Beijing said in a separate statement it strongly urged the United States to stop such "provocative" actions.
US-Chinese relations have been strained since Donald Trump became president.
A trade war launched by Trump has infuriated Beijing
, as did his authorisation of a $1.3bn arms sale to Taiwan, which China considers a rebel province. Washington last week 
enacted new tariffs against China
 covering another $200bn of its imports.
China has taken a series of retaliatory measures, including scrapping a US warship's planned port visit to Hong Kong and cancelling a meeting between the head of the Chinese navy and his American counterpart.
On Monday, a US defence official said security talks due to take place later this month in Beijing between the defense secretary, Jim Mattis, and his Chinese counterpart had been cancelled.